Taylor Swift is going to a dark place with the music video for her new single "Look What You Made Me Do."
The Grammy winner, 27, unveiled the video at the MTV Video Music Awards on Sunday.
The video kicks off with a "dead" Swift crawling out of a "Taylor Swift's Reputation" grave juxtaposed with the star lying in a diamond-filled bathtub. Other clips include Swift sitting on a throne commanding her legion of snakes, crashing into a pole and posing with a Grammy award as paparazzi snap photos and swinging in a golden cage.
MTV
The star also rips off a cat mask while wearing a sweatshirt with a tiger on it (perhaps referencing Katy Perry), and her backup dancers in another scene are all wearing cut-off shirts with the words "I ❤ TS" on them, a clear jab at those who made fun of her ex-boyfriend Tom Hiddleston for wearing a similar tank while they were dating.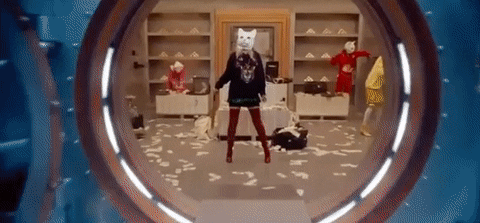 The video evolves into Swift standing on a pile of Taylors from the past, including from her "You Belong with Me" video and more.
The ending, however, takes the cake. All the various Taylors argue with each other, saying things that her critics and haters have said over the last several years. "Stop making that surprise face. It's so annoying!" says one. "What's that, bitch?" adds another, while another shoots back, "Don't call me that."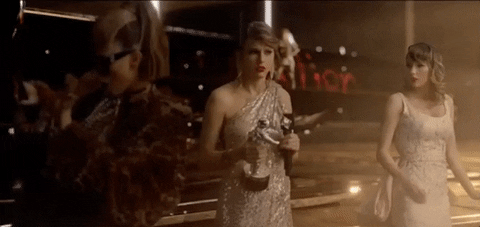 "Oh, stop acting like you're all nice. You are so fake," another Taylor tells a younger version of her, and yet another shoots back: "There she goes playing the victim again."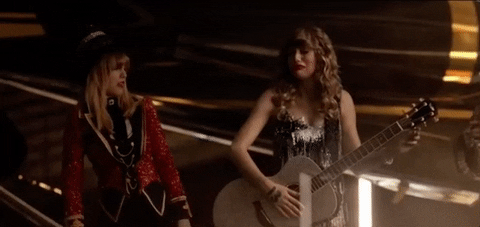 The video ends with Swift repeating what she said in an Instagram caption she posted when hitting back at Kim Kardashian West, who leaked a phone call between Swift and her husband Kanye West last summer. "I would very much like to be excluded from this narrative," she says.
On Saturday, director Joseph Kahn told a fan on Twitter he and Swift began working on the video at the start of the year before shooting it in May.
On Friday, the star gave her fans a sneak peek of the Joseph Kahn-directed video on Good Morning America hours after releasing the song, which is her first solo single in three years.
RELATED VIDEO: Taylor Swift Releases New Single 'Look What You Made Me Do' – All the Details
Co-written by the "Shake It Off" singer, 27, and her longtime pal Jack Antonoff (who also produced several tracks off her last album 1989), the dark, biting tracks appears to clap back at West, Perry and the critical public.
According to a press release, the single is the first song off Swift's upcoming album, Reputation, which will be released on Nov. 10.
Source: People.com