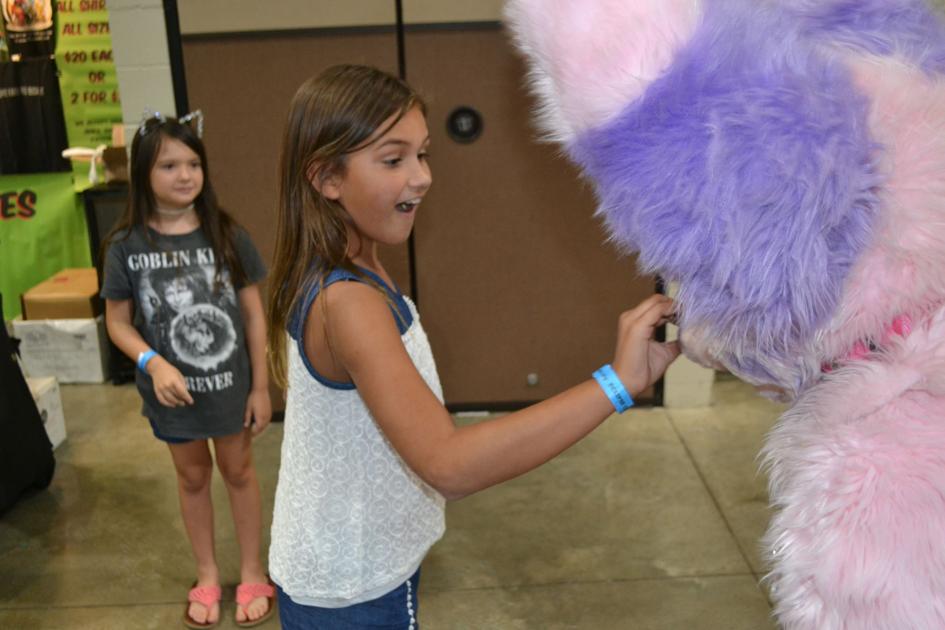 Comic book artists, cosplayers and good ol' fashioned fans invaded the floors of the James E. Bruce Convention Center, Saturday, for Eclipse Con, the first-of-its-kind event for Hopkinsville, and a fundraiser for the Hopkinsville-Christian County Boys and Girls Club.
"It's … a great feeling to see how much it's grown, Hopkinsville, compared to what I remember when I was in the military," said Walking Dead actor Santiago Cirilo, who served in the 101st Airborne Division Air Assault at Fort Campbell for eight years before becoming an actor.
Cirilo lives in south of Clarksville, and said he enjoyed interacting with fans from his home turf. Fans of The Walking Dead cautiously approached Cirilo for autographs and pictures, and the actor wandered the halls, hyping up the guests of Hopkinsville's first Comic Con.
He told the New Era he loves attending cons because of the positive energy he associates with the events.
"People don't know that comic cons help out not just charities around town, but it also creates numerous jobs," Cirilo said. "Over here, we're aliens, we're humans, we're everything and everybody's a family. So you need this a lot."
Cirilo is currently an actor on this season of Nashville and just finished a movie named Enuatti which he said should be released sometime next year.
Eclipse Con will take place over two days, and events, such as a Cosplay lesson, Acting 101 with Cirilo and voice acting adventures with Samantha Newark and Michaela Dietz have been scheduled for Sunday.
The event's headliner, Dietz, voice of Amethyst from the Cartoon Network show Steven Universe, hosted a panel attended by local fans, some of them dressed as characters from the show. The attendees got the opportunity to ask Dietz questions, most of which revolved around various tidbits about the universe of the show.
Dietz did say one of her first roles, as a dinosaur on Barney, led her to grow as a voice actress while learning from the actor who voices the big purple dinosaur.
Elsewhere at Eclipse Con, attendees commiserated and enjoyed the event.
"We've always tried to go to a bigger con, but we always miss it somehow," said Victor Vallicella, who attended Eclipse Con dressed as the comic book character, the Punisher.
"I already had a punisher T-shirt at home," Vallicella said, explaining his decision-making process for choosing a costume.
"We kind of threw this together last night, but I think it turned out pretty good," said Victor's wife, Angelique.
Angelique came to Eclipse Con dressed as the character Domino from the comic book series X-Men and Deadpool. The husband and wife duo had many cosplay companions at Eclipse Con.
Attendance at such events usually requires at least some level of dress up.
"It's like Comic Con, but on a smaller scale," Angelique said. "I like it."
At least one guest to Eclipse Con admitted being thrown off by the name. Travis Colip, of Hopkinsville, said he thought the con would be more eclipse related, but he said he still enjoyed the activities available at the convention center.
Samantha Newark of Jem and the Holograms signed autographs and answered fan questions throughout the weekend.
"We've had the best time. These shows are always so much fun. I'm so excited for Hopkinsville to get the comic con. Everybody's like 'wow! What is this? I don't know.' But it's great," Newark said.
As is usual with comic con guests, Newark brought items from her roles over the years. Included in her collection, were some eclipse glasses decked out in Holograms fashion.
Newark said she planned to view the eclipse from her home in Nashville.
Elsewhere, artists of comic books and pop art drew and painted throughout the weekend. Billy Martinez, an artist with a studio in Nashville, painted figures like Wonder Woman on large canvasses in the back of the hall floor.
Stephen Herron, of Invictus Cosplay came to Eclipse Con equipped with a 3D printer. He said he used to make cosplay outfits out of floor matting, but the 3D printer, a gift from his wife, allowed him to make anything he could imagine. Herron wore multiple costumes throughout the weekend, notably a Deadpool outfit, a favorite of con-goers.
The second day of Eclipse Con saw a similar amount of visitors as the first.
Terrence Davis, Executive Director of the Boys and Girls Club said he was very pleased with how the whole weekend turned out.
"It was absolutely wonderful," he said. "We had some people say it was the best first con they'd ever been to."
Davis said the con committee was still counting the money raised for the Boys and Girls Club as of Sunday evening. He said a determination would be made about the con coming back to Hopkinsville next year, but several people told him they wanted it back.
"One of the good things about (Eclipse Con) is it gives kids who society thinks are a little different, it gives them a space for themselves," he said. "We made a lot of people happy this weekend."
In a weekend full of activities around Christian County, Eclipse Con saw a steady stream of guests, many of them from around the area, and many were children and teenagers.
"We just appreciate all of our sponsors and we couldn't have done it without the help of the community. We appreciate it," Davis said.
Source: go to source